GROUP OF COMPANIES
HomeGROUP OF COMPANIES
Universal Import Export India
We have been trading merchandised goods across Africa, Gulf and Asia Pacific since 1972.Download
Universal Import Export India Pvt. Ltd. (A Govt. recognized Export House) is the pioneer undertaking of the Group. Established as a tiny unit back in 1972, under the leadership of Narayan Pagarani, it is the flagship company of the group.

Regarded as a leading export entity in India, we are engaged in the manufacturing and export of a wide range of products. In the last five years, Universal Import Export India Pvt. Ltd. has made phenomenal progress, adding new products to its tally, so as to serve more of our clients' requirements under one roof.

Universal Import Export India Pvt. Ltd. exports an array of products: African Prints (Kitanga), Chirag Cotton, Textiles, Voil and Suitings, Stainless Steel Utensils, Coffee, Tea, Liquor, ENA, Sugar, Biscuits and Confectionery, Engineering Products, Safety Matches, PVC-coated Leather, Plastic-insulated Products, Corrogated Galvanized Sheets / Coil etc. to Africa, Middle East and Asia Pacific.
Universal Builders
We continue to cherish this dream-come-true with technology, care and expertise
The dream of Narayan J. Pagarani became a reality in 1995, when the reality sector called upon his expertise to provide luxury homes at affordable price.

The company till date has completed three major projects: Model Residency at Mumbai Central, Victory at JVPD and Universal Paradise at Vile Parle. The aggregate constructed area is about 50,000 sq.m.
Presently, Universal Builders is engaged in constructing two residential towers at Jogeshwari and another at Malad West. The total constructed area will be 70,000 sq. m.
As of now, we have a land-bank of 75,000 sq.m. and are in the process of obtaining various approvals to commence construction projects.
Universal Hotels
The company has two hotels that were thoroughly planned keeping customer needs at the forefront.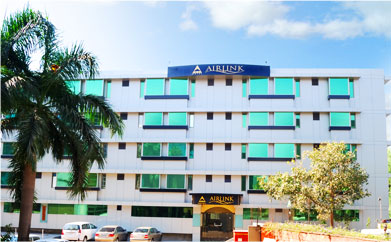 Hotel Airlink, Mumbai
Nestled in the business district of Vile Parle, this 3-Star hotel is only half a km away from the domestic airport. Sporting a brick-designed facade, the hotel houses 39 fully-furnished rooms with 24-hour room service.
Hotel Saiways, Sinnar
An architectural masterpiece, the only luxury hotel at Sinnar, a fast growing industrial estate in Nashik district, is a natural choice of travelers offering 56 lavish rooms. The hotel is near to the famous Shrine of Sri Sai Baba, Shirdi.