SHAVING BLADE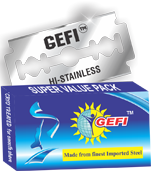 At GEFI, improving the razor blade is our passion—sometimes we're evolving it and sometimes we're revolutionizing it. The best blades that we produce today will provide up to smooth and soft shaving experiences.
Quality razor blades are really hard to make, and historically a couple of major brands have controlled almost all of the world's razor blade factories. They've used that position to earn huge profits by selling razor blades at really high prices. That changes today. GEFI is now the only brand in the world that makes blades and sells them directly to you. And we're committed to selling you our blades for a fair price, so you can get the great shave you deserve without ever overpaying again.
Our expertise team has been grinding high-grade steel into some of the world's sharpest blades. Today, best of our engineers, designers, craftsmen, and production workers build and operate sophisticated, custom equipment that produces millions of precision blades per month. We're excited to partner with our new team to innovate and continue to make the fine blades you deserve.
Our blades will get even better. Your shave will get even better. We'll listen to your feedback about what makes a great shave and create products that deliver you that experience. In the end, we hope you'll enjoy shaving even more.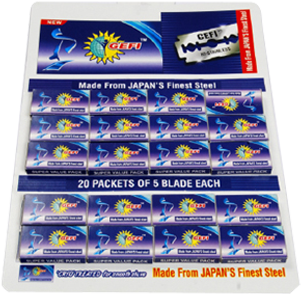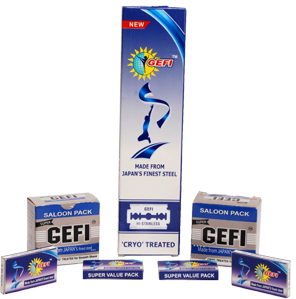 | | |
| --- | --- |
| DANGLER PACKING | PILLAR PACKING |
| 5 Pcs in Small Pkt | 5 Pcs in Small Pkt |
| Such 20 Pkts in One Dangler | Such 20 Pkts in One Box |
| Such 100 Danglers in a Master | Such 100 Boxes in a Master |
| Ctn i.e 10,000 Pcs | Ctn i.e 10,000 Pcs |
IMPORTANT INFORMATION
Wake your skin up
1. Avoid shaving as soon as you wake up in the morning. By giving your skin time to "wake up," you'll allow it to lose the "puffiness" that happens due to fluid accumulation during the night, allowing you to get a closer shave.
2. Before you shave, make sure to wet the shaving area with warm or hot water. This will cause your hair shaft to swell, allowing the blade to cut your hair and not your skin, preventing infections in case of nicks.
3. You may want to exfoliate using a cleanser or scrub to eradicate dead skin cells. This will better prepare your skin for shaving.
Soften your Beard
1. Soak a facecloth in warm water and hold it to your face for 30 seconds. This will help soften and loosen the hair and skin.
Lather your Face
1. Put a ball of shaving cream on your palm and apply it evenly over your beard and neck in upward circular motions. Thoroughly massage shaving cream into your stubble. Make sure to uniformly cover all areas of your face that you wish to shave.
2. Try and use a vitamin and Aloe Vera-based cream as this will protect your face from razor rashes and burns while providing you with a close, soothing shave.
Choose your Blade
1. Always use a sharp blade to avoid cuts; a dull blade drags instead of slides over your face and catches your skin along with your beard. Rinse the blade in hot water as often as possible. Don't hurry, use slow short strokes.
Just Shave
1. Shave in the direction that your hair grows on your face. This will eliminate redness, rashes, razor burn and ingrown hairs.
2. The top section of your beard: Shave from the top of the beard to the edge of your jaw-line in long, even strokes.
3. Your neck and chin: Shave from the bottom of your neck upwards (with the grain) to prevent razor burn and ingrown hairs.
4. Getting a closer shave: Try pulling your skin taut with your free hand while shaving.
5. Your upper lip: Stretch it over your front teeth to tighten the skin and remember to shave downwards.
6. Rinse your razor after each stroke to keep it from becoming clogged with hair.
Take a closer look
Wash off excess shaving cream with warm water, and look for sections you may have missed. Wet your razor to shave these remaining sections.
Moisturize
1. After shaving, use a toner (preferably containing vitamins, aloe extract, etc.) or after-shave. You could also try an oil-free moisturizer to soothe and protect your face after shaving.
2. If an after-shave lotion is what you use, check the label for alcohol content. Please note that dryness and stinging sensations are caused by most after-shave products that have alcohol as its primary ingredient. Although it may feel good initially, it could turn out to be a minor irritant later.
India's leading manufacturer and exporter of Biscuits, Candies, Lollypops, Rice and Shaving Blade from India with current engagement in more than 36 countries across the globe including UAE, Philippines, Burkina, Nigeria, Ghana, Senegal, Angola, South Africa, Somalia, Sudan and Haiti.
Other product range:
Biscuits : Glucose Biscuits I Cream Biscuits I Nice Biscuits I Bourbon Biscuits I Milk Shortcake Biscuits I Ginger Biscuits
Candies : Menthe Noire candy I Orange candy I Fruties candy I Ginger candy I Milk Candy
Lollypops : Top Pop Lollies I Chocolate flavoured Lollies I Fruit Flavoured Lollies I Milk flavoured Lollies
Rice : Premium Parboiled Rice – Best Sortex Rice – IR-8 & IR-64